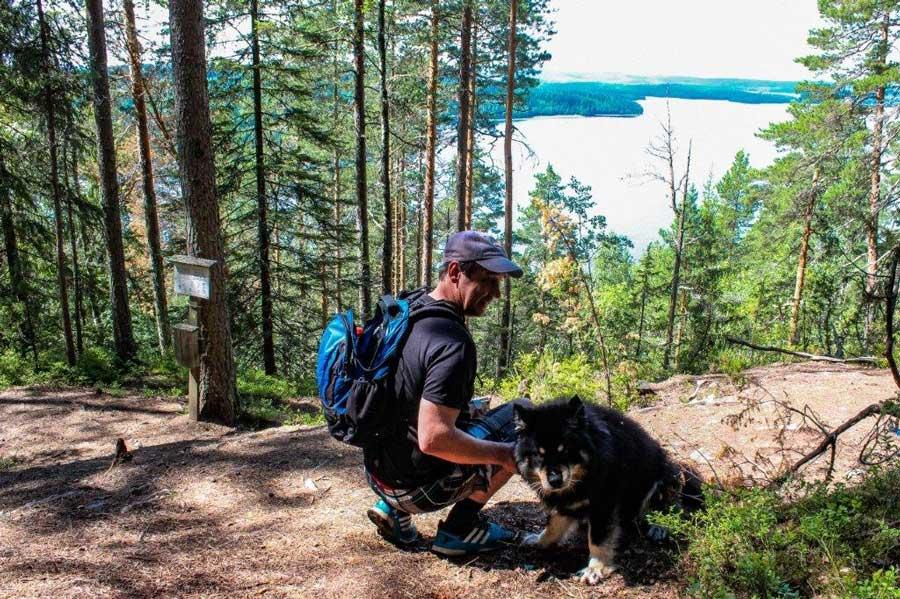 The nice and easy Vaarunvuori mountain nature trail gives you a chance to take a walk through the forest and admire the superb view of Lake Päijänne. The trail is ca. 4 km long, and it starts from the from the parking lot by the road number 610.
If you come from Jämsä or Jyväskylä, you will cross the impressive Kärkistensalmi bridge on the way – the white bridge and the big lake around you is a sight worth seeing in itself.
They tell you to follow the path clockwise, but in my opinion it you can do it either way. The terrain is very easy. There might be plenty of mosquitoes around, so take care to protect you with decent clothing and mosquito repellent.
There is a site for starting a campfire on the way, and a shed with firewood, which you are free to use. However, the firewood was not too dry on the day we went there, and the axe for chopping the wood had seen better days. So, if you want to make your sausage grilling a success, it might be a good idea to carry matches and some dry firewood with you. But, always check whether campfires are allowed – in dry periods the forest catches fire very easily!
This beautiful trail gives you an easy opportunity to enjoy the solitude of the Finnish forest without excessive preparations or long drives into the more remote areas of the country. Vaarunvuori mountain trail can be recommended to anybody for a Sunday stroll, or even stretching your legs when taking the less popular route from the east side of Lake Päijänne to the west or vice versa.